... After 2 1/2 years of frustration, heartbreak and unnecessary drugs... WE DID IT!!!!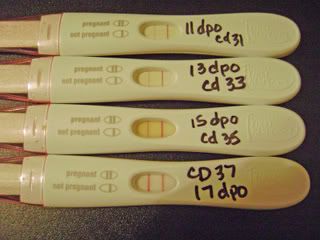 We are currently 5wks, 6days along and things appear to be moving along! I went to the doctor almost right away and had blood drawn. Beta @ 13dpo: 104, Beta @ 15dpo: 270- doubling time of 31 hours which is excellent! Progesterone was also excellent at 34.8. They offered to let me continue coming back every other day until my betas were high enough for an ultrasound, but I opted out. Waiting for those results were insanely stressful, and although they turned out to be a relief, I just didn't want to go through it anymore. I've left this little October 3rd pumpkin in God's hands. I just have a feeling that this is the real deal for us and refuse to think of it any other way. My first ultrasound will be February 11th (less than a week!!) and we are HOPING to see a heartbeat by then. Based on my beta doubling, they should be high enough by that point. Husband is a variety of nervous, excited, anxious... I think he came to the conclusion that as long as I am relaxed he is relaxed.
Let's talk symptoms. My boobs, are even bigger than they already were and they hurt like an MF!! I have never been more exhausted in my life. Work is a real task for me everyday, especially when it is a slow period and I'm caught up on my work. Driving requires loud music and little heat from either my seats or my heater or I'll fall asleep. I've got some cramping, but my understanding that is normal. No morning sickness yet (knock on wood).
This pregnancy should make for an interesting weekend in Mexico!! Did I mention we're going to Playa del Carmen on Valentine's Day?? Oh yeah! I'm super excited, but mostly because I'm looking forward to sleeping out by the pool on a lawn chair for 4 days. I PRAY that I do not get hit with morning sickness on this trip. PRAY PRAY PRAY!!!
All in all... I obviously couldn't be more thrilled and can't wait to document all the exciting things along the way here!!